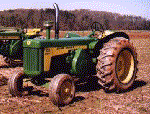 Another 2-cylinder in the collection of Arliss Norman is this 1960 JD 830, seen with a JD 720 in the background.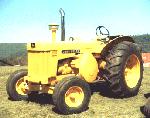 This JD 830 Industrial was seen at the Nittany Antique Machinery Association (NAMA) show in Centre Hall, PA in Sept. '98.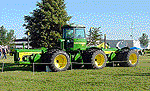 Now here's what they call the ultimate 2-cylinder tractor - it's (3) 830's ganged together. Supposedly it'll pull 40ft of plows in 5th gear.